Kristin Haraldsdottir, PhD
Exercise & wellness researcher 
Sleep is a Superpower
Great things happen to the body during sleep; not only does high quality sleep help you feel more energetic, but it can boost your mood, improve heart health and immunity, enhance blood sugar regulation, sharpen memory and cognition, reduce stress, and help with weight management. Improving sleep quality and duration is one of the most powerful ways to improve health and quality of life. However, getting a good night of rest can be especially elusive for women, who are more than twice as likely to have sleep issues than men.1 In fact, starting in puberty, hormonal shifts cause women to experience sleep differently than men. Given that sleep can have a significant effect on so many aspects of physical and mental health, empowering women to better understand their sleep, identify signs of compromised sleep, and learn how to improve sleep is a key pillar of whole health. 
What uniquely affects sleep in women?
Women face many obstacles when it comes to getting great sleep, which means that when compared to men, women's sleep is often of a lower quality. Women are more likely to experience sleep deficits due to family and social obligations that compete with sleep.2 And biologically, hormonal changes throughout women's lives – especially in estrogen, progesterone, melatonin, cortisol, and testosterone – have a significant impact on their ability to get a good night's rest.3 
Progesterone, a hormone that plays a key part in the menstrual cycle by preparing for the potential for pregnancy, has a big impact on women beyond aiding reproduction: it also impacts sleep quality, breathing, mood, appetite, learning, memory, and sexual activity. Progesterone can induce sleepiness, so when progesterone levels drop right before menstruation and during menopause, women often experience worse sleep and more sleep disturbances. In fact, women with lower progesterone levels (especially post-menopause) are more likely to experience symptoms of obstructive sleep apnea,4 even though it's most often associated with, and more common, in men.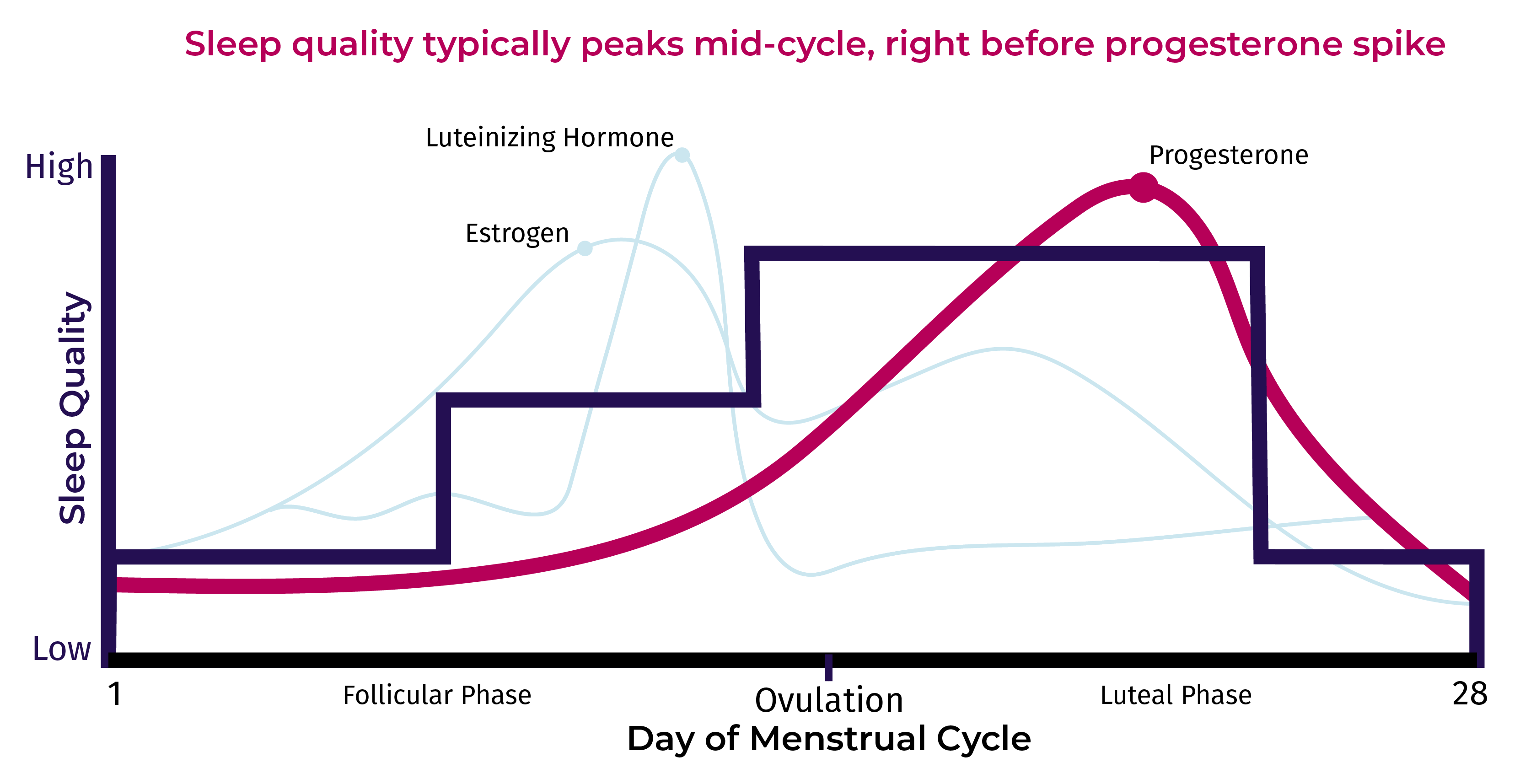 How do hormonal changes impact sleep throughout women's lives? 
Since progesterone is so closely related to sleep quality, women often experience sleep very differently throughout their lives due to hormonal fluctuations: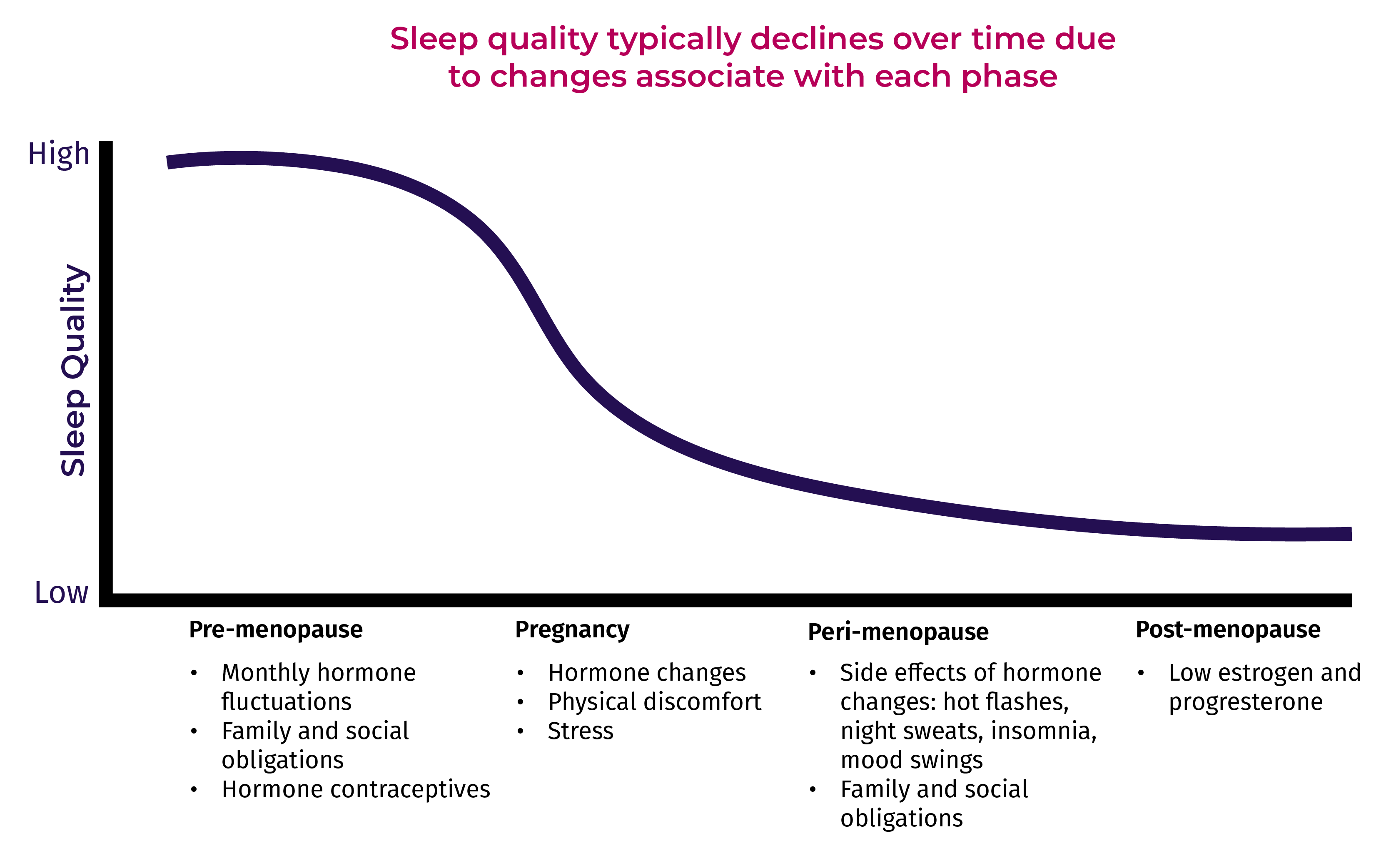 So, What Can We Do To Get Better Sleep?
Many women experience poor sleep, but we don't have to accept it as a fact of life. There are steps you can easily take to understand your unique sleep patterns and get more restful sleep. Tracking sleep duration, sleep quality, resting heart rate, and heart rate variability can help you piece together a picture of what's happening while you sleep, and help you identify daytime behaviors – biometric triggers – that contribute to better sleep quality.    
Tracking

sleep duration

can help easily identify if you're getting less than the recommended 7 to 9 hours of sleep per night for optimal health and indicate when to adjust your bedtime routine to get enough time in bed.

 

Women's

resting heart rate

increases throughout the menstrual cycle right in the days leading up to her period

11

. Tracking when it's fluctuating higher than your nightly average can help you identify why you're not getting a restful night's sleep and suggest when it's time to incorporate a calming behavior before bedtime, such as meditation or deep breathing.

 

Heart rate variability

typically increases at the start of your menstrual cycle when progesterone and estrogen levels are low. However, this higher HRV makes REM sleep more challenging. Understanding your own patterns when HRV is elevated while sleeping can help identify when to focus on improving sleep hygiene and introducing relaxation strategies into your day.

12

 
The takeaway
Sleep is incredibly important; not only is it time for the body to restore, women who are not getting a good night of sleep are also more likely to experience declines in mental health and productivity as well.13 Women very often experience sub-optimal sleep, both in quality and duration, and fluctuating hormones, especially progesterone, are often to blame. There are steps you can take to get the sleep you need. Understanding when and why in your menstrual cycle you're experiencing suboptimal sleep throughout your biological cycle can help you make changes during the day as well as optimize your time in bed.  
References
1. Kravitz https://www.ncbi.nlm.nih.gov/pmc/articles/PMC3185248/ 
2. Maume https://journals.sagepub.com/doi/abs/10.1177/0891243210386949?journalCode=gasa 
3. Eichling https://jcsm.aasm.org/doi/abs/10.5664/jcsm.26347 
4. Sigurðardóttir https://pubmed.ncbi.nlm.nih.gov/35731786/ 
5. Baker https://pubmed.ncbi.nlm.nih.gov/30098748/ 
6. Polo-Kantola https://obgyn.onlinelibrary.wiley.com/doi/full/10.1111/aogs.13056 
7. Won https://www.ncbi.nlm.nih.gov/pmc/articles/PMC4442217/#!po=90.0000 
8. Wilson https://obgyn.onlinelibrary.wiley.com/doi/full/10.1111/j.1479-828X.2010.01252.x 
9. Nowakowski https://www.ncbi.nlm.nih.gov/pmc/articles/PMC4327930/ 
10. Zolfaghari https://pubmed.ncbi.nlm.nih.gov/31851117/
11. Tenan et al https://pubmed.ncbi.nlm.nih.gov/24942292/  
12. Brar https://pubmed.ncbi.nlm.nih.gov/26557512/ 
13. Sheppard https://link.springer.com/article/10.1007/s11199-022-01321-1